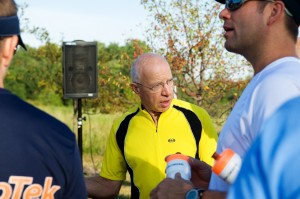 It was a nice 70 degrees at 7AM when we arrived to set up at the Rotary Arboretum.  In the middle of one of the hottest summers in memory, a small army coordinated Lawrence Central Rotary's Steve Lane and George Brenner descended to set up registration tables, tents for safety, first aid, complimentary bike check outs, an up on top of a gentle hill an area for the training wheel take-off staff.
The back of a rented truck has dozens of water coolers filled with liquids and ice to stave off the oncoming midday heat.
Once ready registrants signed up, got their complimentary t-shirt and other goodies from local bike clubs and at 8AM the first batch of riders took out on the 10 mile ride – 5 miles up to the 6th Street underpass and back.  We has a SAG (support and gear) stop at the underpass which was mainly a bunch of iced water, but thanks to the local bike clubs if anyone encountered trouble tools and help were readily on hand.
For safety along the way, volunteers were at the major intersection crossings to make sure traffic was not a problem, for peace of mile for the less seasoned riders.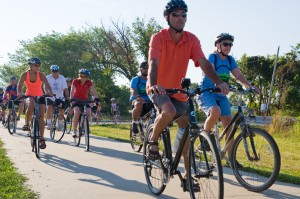 At 9Am the next larger, group set out to ride a mile and a half out to the Clinton Park Lake overlook and back.  It included a lot of the people who had ridden up and back on the 10 mile already too, it was amazing to see the pack of bikes head off down the trail.
Interspersed the entire morning were toddlers and younger kids taking advantage of the 1 mile closed loop course.  Kids that did not have helmets and even those will ill fitting ones were set up with a nice new helmet and given a lesson on how to wear it and be safe.
Walking a quarter of the way around the training wheel take-off station was set up.. staffers removed wheels and coached kids running alongside them down the gentle incline until the centrifugal force and a little balance kept them upright.  It was amazing to see the big smiles on faces when they realized they were actually riding a two-wheeler!
After each ride or lap around the Arboretum pond the fine people from the Merc had healthy snacks set up for a little post ride energy or in some cases a celebratory granola treat for riding a two-wheeler bike for the first time.
From all of us at Ride Lawrence, Lawrence Central Rotary we want to thank all the sponsors and supporters below – without them this wouldn't have been possible.
We plan to keep this yearly tradition going and growing, and thanks to everyone involved it looks like we'll be able to do that!

Below is a gallery of pics from the event taken by Chris Ralston of GP VeloTek.  If you have any you'd like to add please email them to us and we can get them posted!
Update: We've added some more pics by Scott Wagner too!  If you have more keep them coming and we'll post them!