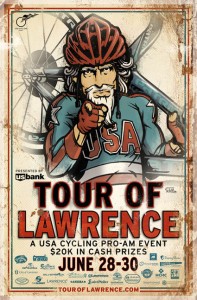 The weekend of June 28th you can enjoy bicycle racing at its best in beautiful and historic Lawrence. The Tour of Lawrence is a set of three separate USA Cycling Pro-AM competitive bicycle racing events.
The TOL actually consists of three competitive bicycle racing events and the weekend's cash prize list totals over $20,000!
— on Friday night downtown are the Street Sprints sponsored this year by Laird Noller Automotive

— on Saturday, the challenging the KU Campus Circuit Race sponsored by Meadowbrook Apartments goes up and down the hills of Mt. Oread with over 400ft of climbing per lap and is this year's KCA's Kansas State Category Road Race Championships
— on Sunday, the Downtown Criterium sponsored by Free State Brewery is using the former two-time Collegiate National Championships course and this year's KCA's Kansas State Category Criterium Championships
If you're not a competitive bike rider there's lots of other opportunities.. You can volunteer to help at the TOL's site http://www.touroflawrence.com/volunteers.php
Lawrence Central Rotary and one of our initiative's Ride Lawrence is sponsoring the free Kid's Zone on Friday night and Sunday. The fine folks from Lawrence's Jump for Joy will have inflatables set up for the kids and it's free! There's also a host of other kids events that weekend. Click on the image below for more info, times & places!
On Sunday there's a FREE Kids Bike Race at 11am and at 12:30 is the Mass Street Mile run down Mass Street.
It's going to be a great weekend in Lawrence so come check it out!