A group of 30 cross-country cyclists participating in this summer's Bike & Build 2013 trek across the US.  The team began its journey to raise awareness about affordable housing in Providence, R.I., and will continue its 4,173-mile biking trip west to Half Moon Bay, Calif.  Entering its eighth summer, the Providence to California (P2C) trip will take its riders from the hills of New England to the wheat fields of Kansas, up and over the Rockies, and ultimately to the gorgeous Half Moon Bay. With many improvements over the course of the route, this summer's journey is sure to be the most scenic yet!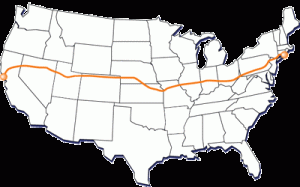 After a two-day orientation in Providence and a build day with Providence Habitat, riders will head out across Connecticut and over the hills of New York towards their second build day in Harrisburg, PA. From there they'll head across the rolling plains of the Midwest (Ohio, Indiana, Illinois, Missouri, Kansas, and Nebraska). Then it's mountain time! Riders will see the gorgeous (pun intended) Rocky Mountains in Colorado and have a day off in Fort Collins before heading into Utah. Passing just south of the Salt Lake and into Nevada, riders will finally see the California border.
The P2C team (Providence to California) will make a pit stop in Lawrence this week to build a home with Lawrence Habitat for Humanity.  The riders will work on Lawrence Habitat's home at 212 N. Comfort lane from 9 a.m. until 3 p.m. on Thursday and Friday.
Bike & Build fund projects planned and executed by young adults. Over the past 10 seasons they have donated more than $4M; built for more than 120,000 hours; pedaled over 6M miles; and engaged more than 1750 young adults in spreading the word about the affordable housing crisis in America.
For more info on the event check out the Bike and Build P2C's page.