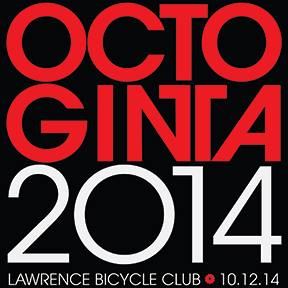 Join the Lawrence Bicycle Club and hundreds of other cyclists for the traditional wind-up event of the year. In its 45th year, the Octoginta is truly a fall classic. So come join the festivities this fall. It's never been better!
Known as one of the best rides in the Midwest, the 2014 Octoginta promises to be another great end-of-season ride. The Lawrence Bicycle Club prides itself in going the extra mile to give you the best SAGs and support along with the gorgeous fall foliage that combine for a ride you'll never forget.
The Sunflower Bike Shop will again be providing a full breakfast with all of the trimmings as a part of their sponsorship of Octoginta. You won't want to skip this SAG unless you were hoping to lose weight on the ride.
The Octoginta lunch SAG, at the end of the ride, features a hearty minestrone soup that satisfies vegetarians and meat-lovers alike.
Here's the rundown:
Saturday, October 11
7-8:15 a.m. – Time Trial
Registration is between 7-8:15 a.m. Start off the Octoginta Weekend by testing yourself in "the race of truth" – an individual time trial! Categories available for all ages and skills.
Riders start at one minute intervals and race out and back over the 10 km. (6.2 mi.) course. This event will also serve as a fundraiser for Women's Free State Racing Team.
Historic Lecomption High School, 620 E. Woodson, Lecompton, KS 66050
$25 except age 10-18 FREE! Pre-registration information is available at http://www.usacycling.org/events. Event held under USA Cycling (USAC) permit. All USAC rules apply. All participants must have USAC annual license or purchase one-day license for $10.
Emily Wamsley, [email protected]
8 a.m. to 4 p.m. – Pre-registration
Come down to South Park, on Massachusetts St., between 8 a.m. – 4 p.m. to register and pickup your packets. Beat the Sunday morning rush and register on Saturday!
9:30 a.m. – Tour de County
Enjoy this 30-mile round-trip ride through pastoral Douglas County. Return for brunch at downtown Lawrence. The ride departs from South Park, with a SAG at the halfway point. $5
2 p.m. Swap Meet
Looking for something? Want to get rid of something but can't quite bring yourself to throw it away? Come and enjoy the festivities at South Park on Massachusetts street.. There will be various vendors as well as the traditional SWAP meet.
Check back here for further details on which vendors will be attending.
Sunday, October 12
7 a.m. Ride-day Registration & Check-in
Late registration & check-in begins at 7 a.m. at South Park on Massachusetts street.
8:30 a.m. – Ride Start
The mass start begins at 8:30 a.m. at South Park on Massachusetts Street near downtown. Please be registered and checked in before this time.
Another beautiful route has been chosen for this year's 80-mile tour through northeast Kansas. In addition to the 80-mile ride, there will be a shorter route around 45-miles. View the fall colors as you bicycle scenic country roads.
Sunflower Bike Shop's SAG has become famous for its breakfast fare of bacon, sausage, eggs, French toast and extras sure to fuel up the hungriest cyclist.
The Lawrence Bicycle Club will be serving the traditional minestrone soup and sandwich lunch acclaimed as the best of any ride in the Midwest. Lunch will be served at South Park.
Cycle Works will be performing emergency repairs.