Below is a repost from Bicycle Times with 7 books for kids about bicycling.
Review: Seven bicycle-themed children's books
Bicycle Times Magazine by Bicycle Times Magazine / March 15, 2016 8:25am
Words: Jeff Lockwood
This piece originally appeared in Dirt Rag Magazine in 2005. All of the books mentioned are still available.
We don't watch much television in our house. In fact, by the time you read this, our daughter Kaya will be 2 years old [now 13!], and I can say with confidence that she's probably watched a total of one hour of television since the day she was born. Instead of filling her head with the latest Disney tripe fed to us, she's become very fond of books. We read to her before bed and throughout the day. While most children her age take dolls, stuffed animals or toys to bed, Kaya sleeps with books.
So recently, I went to Powells.com and took the plunge. I spent less than $100 on new and used books aimed at a variety of age groups and reading levels. As you'd expect, books aimed at children under 3 years old are mostly illustrated paperbacks with minimal words. And only a small subset of those is focused around a bicycle. Fortunately, I found books with some bright, exciting illustrations that caught the attention of Kaya. Some of the other books I purchased are aimed at a slightly older age group, and I also picked one book that's a great resource for us parents. All prices listed are for new books.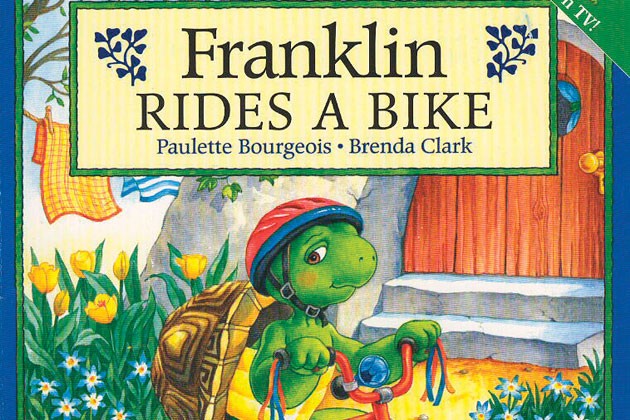 Franklin Rides a Bike
Author: Paulette Bourgeois
Illustrator: Brenda Clark
Publisher: Scholastic, Inc.
22 page paperback; $5
Franklin is a sad little turtle because he still relies on training wheels while the rest of his friends zoom through the woods training-wheel-free. With practice, determination and encouragement from his mom, Franklin soon loses the training wheels. Bright illustrations and brief text make this a good book to read to toddlers.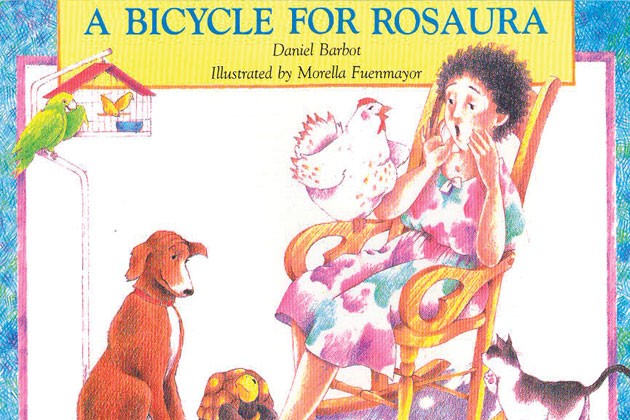 A Bicycle for Rosaura
Author: Daniel Barbot
Illustrator: Morella Fuenmayor
Publisher: Kane/Miller Book Publishers
24 page paperback; $6
Señora Amelia decides to buy a bicycle for her hen, Rosaura, as a birthday present. Furthering the high-end frame builder stereotype, an eccentric man measures Rosaura for the perfect custom fit. And, amazingly, he actually delivers the bike on time. The story is short and to the point, the illustrations are soft and pleasant, and the book is best read to younger children.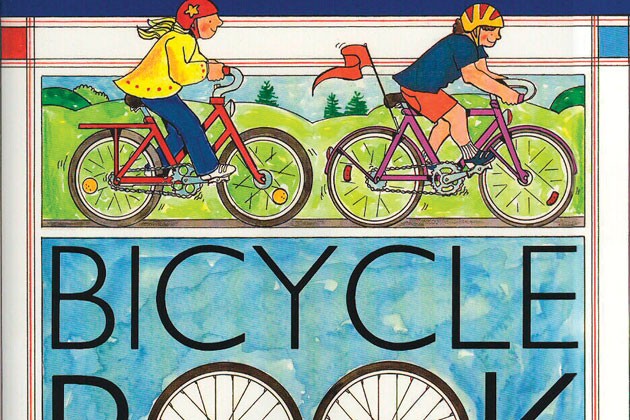 Bicycle Book
Author: Gail Gibbons
Publisher: Holiday House, Inc.
32 page hardcover; $17
Aimed toward roughly the third grade reading level, this book provides a wealth of bicycle information for young readers. Filled with large, descriptive and fun illustrations, this book quickly and painlessly presents children with the history of bicycles, basic functionality, types of bikes, uses, componentry, safety, simple bicycle care and fun facts.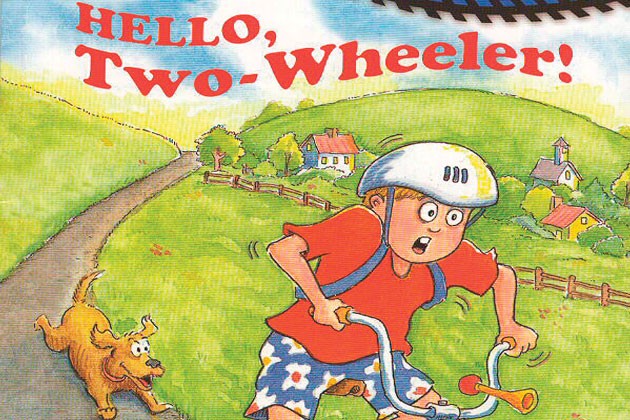 Hello, Two-Wheeler!
Author: Jane B. Mason
Illustrator: David Monteith
Publisher: Grosset & Dunlap
48 page paperback; $4
Short and simple sentences combined with exciting illustrations make this a good book designed for beginner-level readers. We follow a young boy frustrated that he's still on training wheels. After deceiving his friends with excuses to get out of riding with them, he suddenly discovers that he can ride without the training wheels.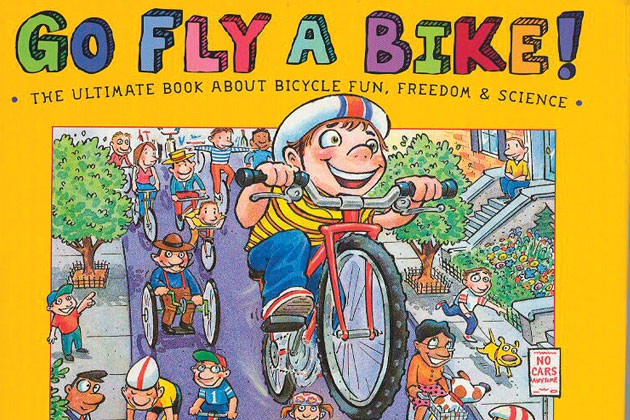 Go Fly A Bike!
Author: Bill Haduch
Illustrator: Chris Murphy
Publisher: Dutton Children's Books
83 page hardcover; $17
The subtitle of this book is "The Ultimate Book About Bicycle Fun, Freedom and Science," and that's a very accurate description. You and your children are going to get all kinds of useful, fun and interesting information here. Small, whimsical black and white illustrations throughout the book work well with informative sidebars and entertaining quotes.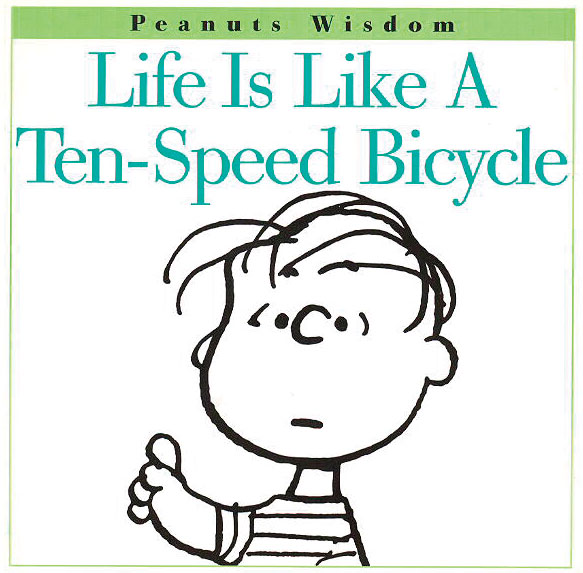 Life is Like a Ten-Speed Bicycle
Author/Illustrator: Charles Shulz
Publisher: Collins Publishers
32 page hardcover; $6
Linus has always been the most philosophical personality in the Peanuts gang, so he got his own book. Though only one of these black and white strips mentions a bicycle, it's still a fun book for kids of all ages. Linus' quote that "Life is like a ten-speed bicycle—most of us have gears that we never use." alone is worth the price of admission.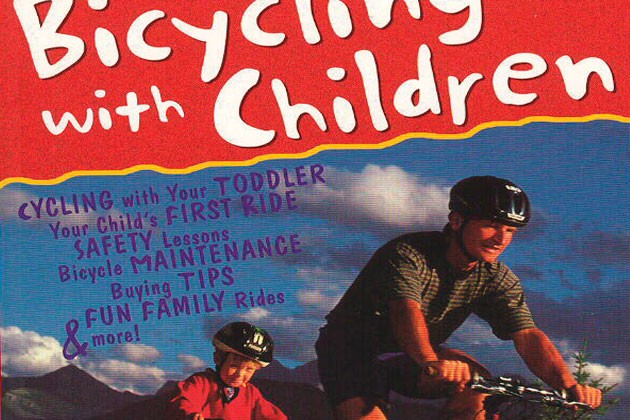 Bicycling With Children: A Complete How-To Guide
Author: Trudy E. Bell with Roxana K. Bell
Publisher: The Mountaineers
221 page paperback; $15
Every parent, no matter the skill level, should buy and carefully read this book. Bell and her young daughter (the co-author) explore every important topic relating to children and bicycles: proper bicycles, riding with a baby, tandems, safety, purchasing a bike, bicycle maintenance and riding with children with special needs. There is also an exhaustive list of great resources.