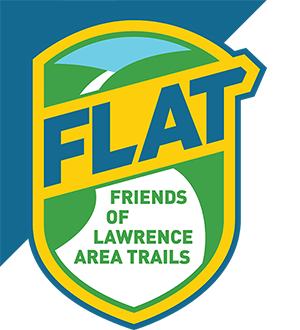 There's a local organization you need to get to know. It's called FLAT, no it's not a play on the great plains once you get to the other side of the Flint Hills and can see Denver, FLAT is an acronym for the Friends of Lawrence Area Trails.
FLAT is a nonprofit group devoted to developing, promoting and maintaining a robust and vibrant trails system in Douglas County and northeast Kansas. FLAT's primary roles are to raise funds for trail construction, build a community of trails supporters, and advocate for city, county and state investment in trails.
The founding committee is composed of local well-known local champions of being active that include:
Kate Dinneen – Chair
Marilyn Hull – Member
Sarah Hill-Nelson – Treasurer
Susan Hampton – Member
Jeff Severin – Member
From their website:
We envision a time when Lawrence area residents and visitors of all ages and abilities have convenient access to a trail system that delivers healthy people, economic growth, and a green future.

Our immediate goal is to work toward completion and greater use of the Lawrence Loop, the 22-mile paved trail that will eventually circle the city.

Looking ahead, we will work toward expanding the Lawrence area trail network and promoting Lawrence as a northeast Kansas trail hub.

FLAT will work collaboratively with existing groups that build and maintain trails and organizations that host events on trails.

We intend to establish ourselves as a 501c3 by the close of 2018. Meanwhile, the Douglas County Community Foundation is accepting tax-deductible donations to the Friends of Lawrence Area Trails Fund.
For more information about FLAT check out their: