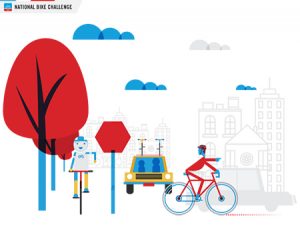 May is designated as National Bike month each year.  Several community organizations in the Be Active Safe Routes community partnership are working with the city to encourage everyone to get out and bike around town this month (and every month). Here are some ways to get out and celebrate Bike Month:
National Bike to Work Week is May 16-20. Try bicycling to work and encourage your co-workers to do the same.
Lawrence is participating in the National Bike Challenge – a nationwide event to unite thousands of current bicyclists and encourage new riders. Sign up at www.nationalbikechallenge.org to join the challenge to track your miles or sign up a team to compete with your friends, family or co-workers.
Take a ride with the City Commissioners on Tuesday, May 17.  Meet at City Hall at 4:30 to take a quick ride around town to celebrate National Bike Month.
Take the Confident, Capable Commuters Class through Lawrence Parks and Recreation. Learn how to ride safely in traffic, basic bike maintenance and much more.  Contact [email protected] or call (785) 832-7950 for more information and class times.
Sign up for the week-long Youth Cycling Camp through Lawrence Parks and Recreation in June.
The Lawrence Public Library's Summer Reading program is encouraging people to participate in Bike Middle Earth – a fun way to combine your love of reading with staying healthy.  Find out details on the program at www.lawrence.lib.ks.us/walkingtorivendell/ and log your miles to Middle Earth.
Tune up your bike at a free bike stand around Lawrence. There are four locations now with five more planned soon.
Track your routes ahead of time by using the city's online Bicycle Rideability Map or pick one up at City Hall, KU Parking and Transit, Cycleworks, Sunflower Outdoor and Bike Shop or Ambler Student Recreation Center.
Take your bike on the bus – by combining transit and bicycling, you can get farther in Lawrence without using your personal car and saving that gas money for something else.