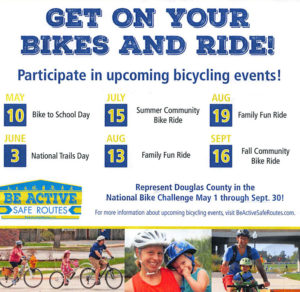 There are some great family friendly bicycling events for you to check out here in Lawrence and you can even represent Douglas County in the National Bike Challenge! It's easy and gets you out to enjoy the summer.
There are 4 great events (and other weekly ones) for you to check out. They are free and fun for the whole
But there's another cool event running through the rest of the summer. The National Bike Challenge is a nationwide event uniting thousands of current bicyclists—and encouraging countless new riders. It is a free and easy way to challenge yourself, your colleagues and your community to ride more while competing on a local, state and national level.
They use an app called Strava to keep track of all the miles people ride. Currently, Lawrence is in second place in KS by just a hair to Witchita. You can help us over the edge.
The Challenge is a great way to get involved and bicycle more as individuals, companies, and communities, together as a nation. It's not just for hard-core riders, it's for recreational riders too, just get out there, log your miles and represent Douglas County!
To read more about it check out the National Bike Challenge website https://nationalbikechallenge.org/