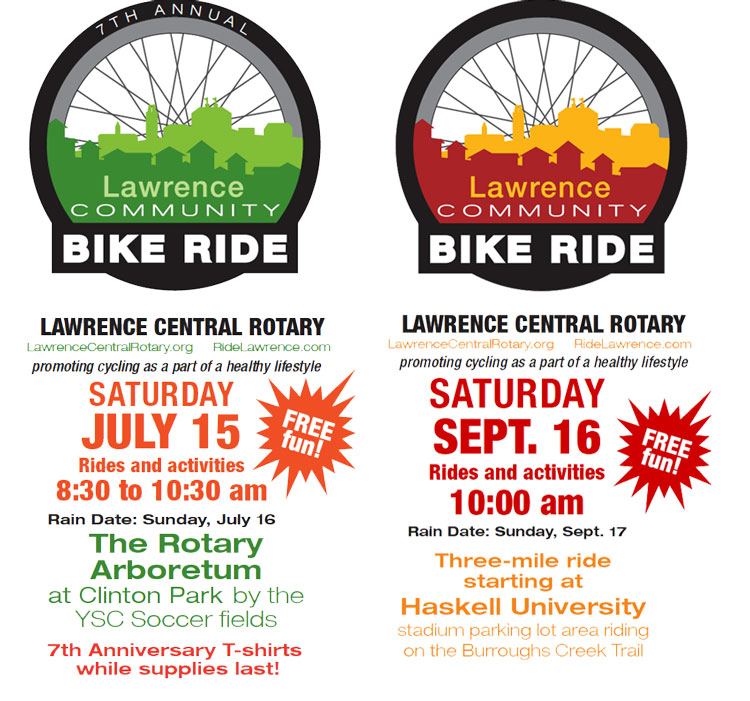 For the seventh year, Lawrence Central Rotary and Ride Lawrence along with some amazing local sponsors are hosting two community bike rides. One in July and another in September. The best part, they are both FREE!
The summer Community Bike Ride will be held July 15th at the Rotary Arboretum starting at 8:30 to beat the summer heat.
There'll be rides and activities for everyone ranging from a 1-mile easy loop around the Arboretum and Training wheel take-off workshop for smaller kiddos who are ready to start rolling on two wheels.
There's a three-mile family ride out to the Clinton Lake overlook and back. Lastly, there is the 10-mile ride up to I-70 and back.
During all of the rides in the parking lot of the Arboretum, there will be:
Helmets Fittings and Safety vests to participants (while supplies last).
Kid's Zone with inflatables to burn off that extra energy.
Sunflower Bike will have a maintenance and bike check stand set up.
The Merc will have a great array of healthy snacks.
7th anniversary T-shirts while supplies last
The Fall ride will be held September 16th starting at the Haskell University stadium parking lot and riding on the Burroughs Creek Trail.
Other activities from 10 a.m. to 12 p.m. include:
A Training Wheel Takeoff Clinic. Experts will help children who are ready to take off their training wheels in a safe environment.
Bike Rodeo. Kids can practice and improve their riding skills
Bike Helmet Fitting and Giveaway. Safe Kids with LMH will help outfit kids with helmets, while supplies last, along with providing cycling safety tips for kids of all ages – and for adults too!
Inflatable Bounce House and Slides for the kids!
"One of our goals as a club is to get more and more people discover cycling and an active lifestyle as a fun and healthy activity," said Steve Lane, a member of Central Rotary Club. "This event is a great opportunity for families and individuals to enjoy cycling in a safe and scenic area on Lawrence's east side."
All of this family-friendly wonderfulness is made possible by the sponsors below.