Van Go, Inc. is this year's recipient of an artfully designed bike rack sponsored by the Lawrence Central Rotary Club. The ribbon cutting for the bike rack will be held Thursday, September 27 at 4 pm at Van Go, 715 New Jersey.
The rack, funded by LiveWell Lawrence, was designed by Rockhill and Associates and was envisioned to complement the building's architecture. The racks include concrete bases with steel tops with to secure the bicycles. The design was fabricated over the summer and was installed in August.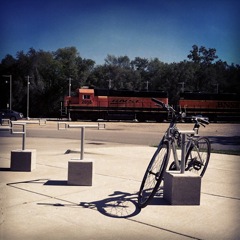 The new rack will be highly used by the Van Go's teens, which frequently use bikes for transportation to and from their work at Van Go. Biking gives the teens independence as well as helping to instill healthy living habits.
This is event is free and open to the public.
More information available at:
http://lawrencecentralrotary.org/