The story below is from the Smart Growth America National Complete Streets Coalition.

Complete Streets Help Create Livable Communities
The streets of our cities and towns are an important part of the livability of our communities. They ought to be for everyone, whether young or old, motorist or bicyclist, walker or wheelchair user, bus rider or shopkeeper. But too many streets are designed only for speeding cars, or worse, creeping traffic jams. They are unsafe for people on foot or bike – and unpleasant for everybody.
Incomplete streets deny citizens safety, choice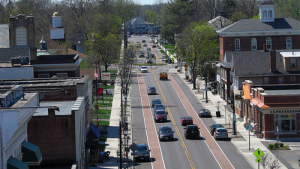 Most of us think of America as the land of choices. Yet, in just about any community built in the last 50 years, there is only pretty much one choice for transportation: the car. The more sprawling our communities – low density, scattered development linked by busy, high-speed, multi-lane roadways – the more we are limited to our cars.
Even where daily destinations are close to home, incomplete streets too often make them inaccessible by foot, bicycle, or public transportation. They are cut off by cul-de-sacs that increase walking distance, or by high-speed roads lacking bike lanes, sidewalks, comfortable transit stations, or safe crossings. While some streets do provide a safe pedestrian environment, it may not be a pleasant one – the absence of benches, scarce landscaping, and storefronts set back from the sidewalk do little to encourage walking.
The heavy reliance on driving has an impact far beyond today's traffic jam. People of color, who are less likely to own cars and more likely to rely on public transportation, are particularly affected by poor development patterns.3 Working families who own a car are burdened with associated expenses: purchase cost, maintenance, registration fees, fuel, and others.  Streets designed solely for automobile travel also put people at risk. In 2007, there were 4,654 pedestrian deaths and 70,000 reported pedestrian injuries – that's nearly one every eight minutes. In a poll of people over 50 years old, 47 percent said it was unsafe to cross the street near their home.  In neighborhoods where traffic is a nuisance and a threat, residents both young and old are more inclined to stay in their homes. This limits much needed physical activity and social
interaction.
Complete Streets foster livable communities
Communities are increasingly embracing smart growth to meet their residents' desire for choices in housing, shopping, recreation, and transportation. Complete Streets meet the demand for transportation options, while promoting other community goals. They provide safe and affordable access for everyone, whether traveling to school, work, the doctor, or their favorite restaurant.
More than half of Americans recently surveyed would like to walk more and drive less. Poor community design and lack of pedestrian facilities are the primary reasons people cite for not walking more. An overwhelming number support policies intended to make their communities more livable by reducing traffic speed and creating a safer pedestrian environment.
Complete Streets contribute many benefits to the surrounding community:
• Wide, attractive sidewalks and well-defined bike routes, where appropriate to community context, encourage healthy and active lifestyles among residents of all ages.
• Complete Streets can provide children with opportunities to reach nearby destinations in a safe and supportive environment.
• A variety of transportation options allow everyone – particularly people with disabilities and older adults – to get out and stay connected to the community.
• Multi-modal transportation networks help communities provide alternatives to sitting in traffic.
• A better integration of land use and transportation through a Complete Streets process creates an attractive combination of buildings – houses, offices, shops – and street designs.
• Designing a street with pedestrians in mind – sidewalks, raised medians, better bus stop placement, traffic-calming measures, and treatments for travelers with disabilities – may reduce pedestrian risk by as much as 28 percent.
• A livable community is one that preserves resources for the next generation: Complete Streets help reduce carbon emissions and are an important part of a climate change strategy.
In San Diego, where a number of Complete Streets policies are in place, the La Jolla neighborhood saw its namesake boulevard become something more than an uninteresting strip of shops after recent roadwork. Today, the street is vibrant and alive, with pedestrians, bicyclists, and shoppers. Despite the economic meltdown, the street is outperforming on every factor, from numbers of bicyclists and pedestrians to number of smiles. Communities are also investing in Complete Streets as a way to attract new residents and young professionals.
Complete Streets transform the way transportation serves the American people by creating more choices, shortening travel times, and encouraging less carbon-intensive transportation. A community with a Complete Streets policy values the health, safety, and comfort of its residents and visitors. These policies provide opportunities for people of all ages and abilities to contribute to, and benefit from, a livable community.
To learn more about this check out www.smartgrowthamerica.org/completestreets.