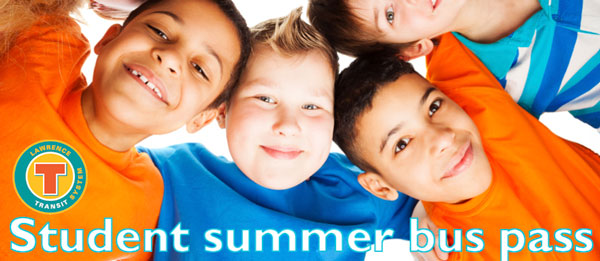 The summer season is quickly creeping up and a lot of parents are strategizing getting kids to the pools, library, recreation centers, and shopping?  In some cases your kids might not be able to ride there bikes there, but the good news is that wherever kids need to go in Lawrence, the T can get them there!
The city announced that for only $10, a student summer bus pass is good for unlimited rides in June, July and August. The pass is for students in grades K-12. This year, there are even more locations to purchase the pass:
Starting May 1, passes are available at: City Hall, Community Building, East Lawrence Rec Center, Holcom Rec Center, Rock Chalk Park.  Starting May 18 you can get them at the Indoor Aquatic Center and starting May 23 they will be available at the Outdoor Aquatic Center.
Trip planning assistance is available online or over the phone. Bus drivers are also there to help whenever a passenger needs assistance. In addition, kids and parents can send a text message to find when the next bus will arrive at a particular bus stop. They can also download the new app "MV Transit Where's my Bus?" available on iTunes and Google Play.
"Learning to ride the bus and navigate the system can be extremely beneficial for kids," said Robert Nugent, transit administrator. "Their parents also appreciate it because they know their children are getting to their destination safely."
For more information, visit www.lawrencetransit.org or call (785) 864-4644.