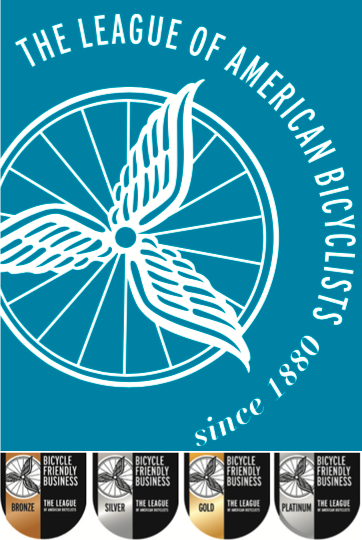 Did you know there aren't any League of American Bicyclists "Bicycle Friendly Business" in Lawrence. There may be a few that qualify already and don't know they do.
Why would you want to consider this? Listen to what some people have said:
"By receiving the initial recognition, we were able to justify installing lockers and increasing our overall support of cycling in our workplace."  —Chuck Krivanek, Human Resources Manager, InterContinental Hotels Group
"The designation [has given] us more influence in advocating for better bicycling infrastructure and benefits that we can ask from our company, the building managers, and local government. After we had gained our BFB designation, we were able to promote bicycling even more at a Chamber of Commerce breakfast topic." —Michael Barreyro, Volunteer Bicycle Coordinator, SAP Labs – La Crosse
Becoming a BFB benefits your bottom line while also enhancing quality of life in your community. What can you gain by becoming bicycle friendly?
Recruitment: attract and retain the best and brightest
Increase morale and quality of life for employees
Foster a sense of community and camaraderie in workplace
Enhance health and wellness bene ts, and reduce costs on healthcare
Catalyze a more alert, active, productive workforce
Reduce absenteeism
Showcase social reponsibility, a commitment to sustainability and reducing environmental footprint
Support and expand reliable, consistent transportation, particularly for employees in urban areas
Create a culture of wellness
Cut transportation spending by company, individual and community
Support long-term health benefits, both physical and mental
Sound interesting?  Check out http://bikeleague.org/business