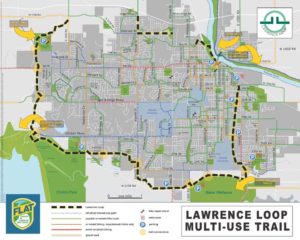 The City of Lawrence is excited to announce that the Municipal Services and Operations Department has received a Transportation Alternatives (TA) Program grant from the Kansas Department of Transportation for Fiscal Year 2020. The grant, in the amount of $480,000, requires a twenty percent match and was provided to aid in the completion of a ten foot shared use path for sections of the Lawrence Loop from 8th Street to 11th Street and 29th Street from Burroughs Creek Trail to Haskell Avenue.
Construction of the Lawrence Loop began over 20 years ago with completion of the west-leg of the South Lawrence Trafficway. Segments have been added incrementally through Transportation Alternatives (TA) Program and other grants.
In response to receiving news of the grant award, City Engineer David Cronin said, "The creation of the 22 mile Lawrence Loop has involved the whole community. As many know, we're down to the last four sections of the Loop which comprise about four and a half miles (map). This grant will help us continue to make progress to complete the Lawrence Loop and implement our community's Priority Bikeway Network."
According to the Kansas Department of Transportation, information about the other TA grant recipients is forthcoming.