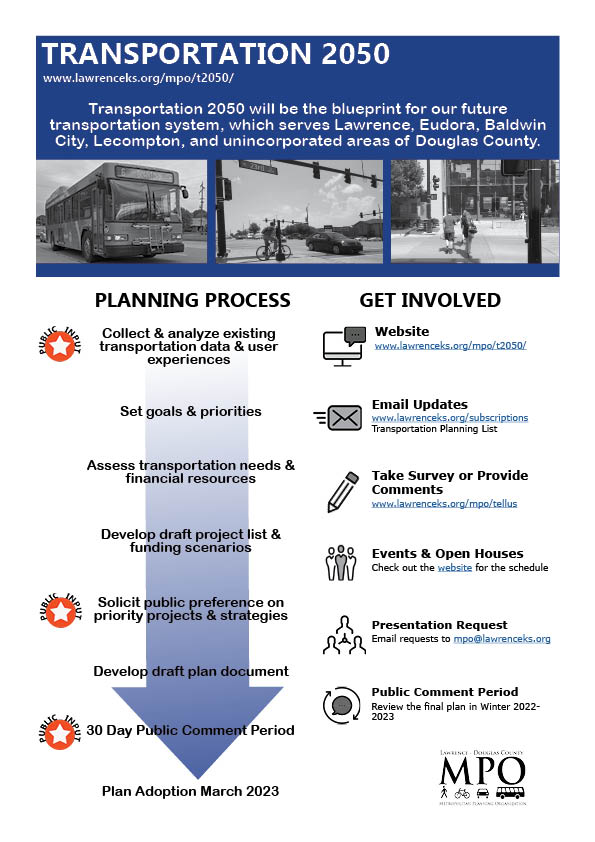 The Lawrence-Douglas County Metropolitan Planning Organization (MPO) has begun a 30-day public comment period for the draft Metropolitan Transportation Plan (MTP): Transportation 2050. The Plan identifies future needs and makes investment recommendations for all modes of transportation including automobile, public transit, bicycle, pedestrian, etc. This plan reflects the feedback and perspectives provided from the community engagement conducted in 2022. This plan is required by federal regulations to ensure funding for transportation projects throughout Douglas County.

Review and comment on the draft plan now!

The official T2050 30-day public comment period begins on January 23 and will end on February 22. Comments received will be considered for the final document, to be presented to the Lawrence-Douglas County Metropolitan Planning Organization (MPO) Policy Board for consideration at their meeting at 3 p.m. on March 16, 2023, in the Lawrence City Commission Room.
Review the document: https://lawrenceks.org/mpo/t2050; paper copies are available for review at the Lawrence Planning & Development Services Office, Lecompton City Hall, Baldwin City Public Library, Eudora City Hall and Lawrence Public Library.
Written comments may be submitted online at www.lawrenceks.org/mpo/tellus, emailed to [email protected], or mailed Lawrence-Douglas County MPO, PO Box 708, Lawrence, KS 66044.